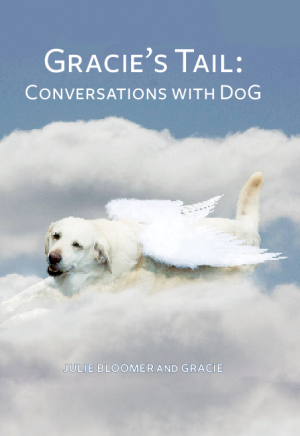 Gracie's Tail: Conversations With DoG
by Julie Bloomer and Gracie
Dissatisfied with the practice of law and finding herself getting divorced, again, Julie Bloomer trades in the west side of Los Angeles for the east end of Ojai and embarks on a road of transformation and self discovery, when a wonderful being, named Gracie, enters her life.
Along the way, she confronts her past, rediscovers her connection with nature and the unseen forces at work in our lives, and learns to take dictations from Gracie. 
Conversations with DoG  is a captivating tale of learning to love and believe in yourself, so you can let go of the past and allow the mysteries and miracles of life to flow in the moment.
This is the inspiring story of one woman's spiritual journey, with her dog as her guide along the path.  As she learns to listen with her heart and feel the connection between all beings, communication opens, and Gracie helps her find peace, love and gratitude for all. Gracie is the ultimate teacher.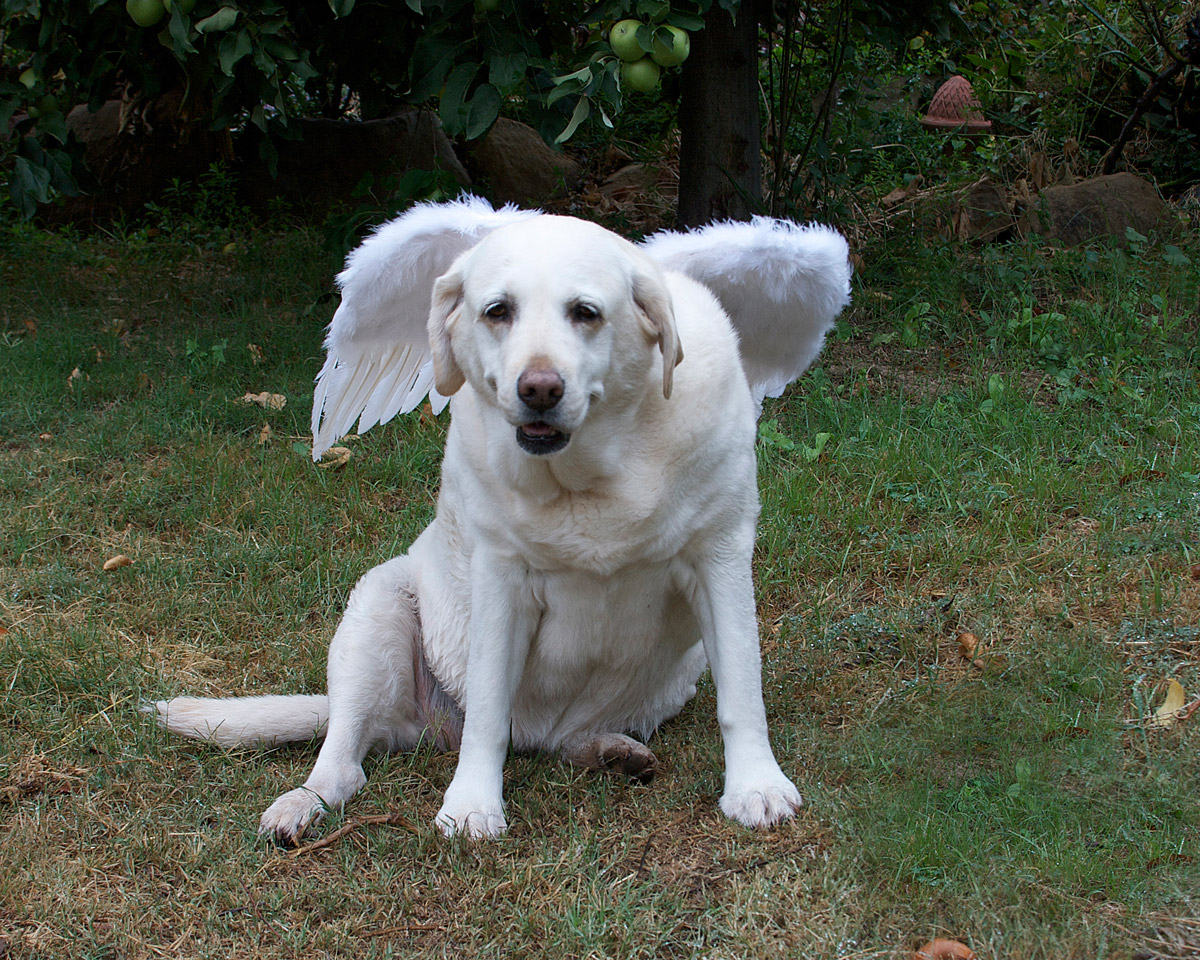 "What can you say about a fourteen-year-old Labrador retriever who died? That she was beautiful. And brilliant. That she was the best writing partner a person could have. That she loved to smile and dance and swim in the ocean. That she loved to sing along with the harmonica, as loud as she could. And that she loved me. That she wanted to be with me always. I was good enough for her just the way I was. No judgment, no changes necessary."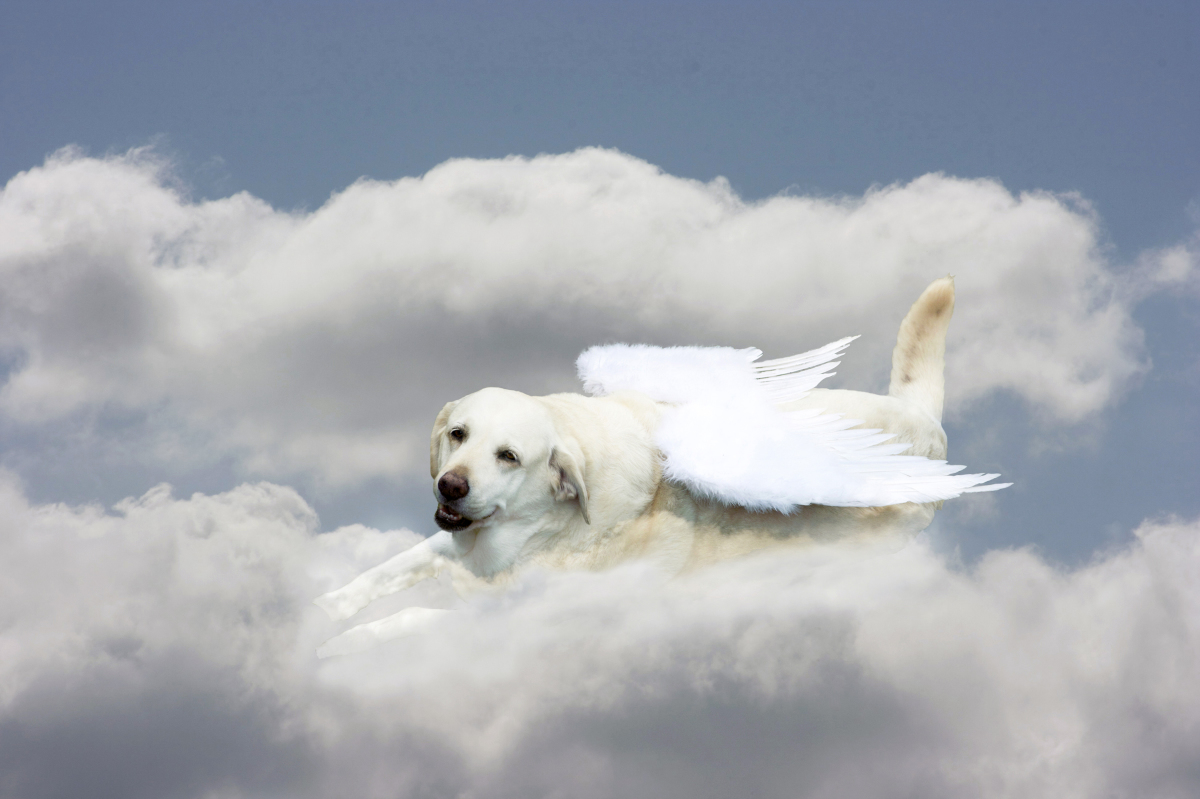 "Julie thinks she picked me, but that's not quite how it worked. I had the entire thing orchestrated. I knew I needed to rescue her from the beginning, even before the beginning. You see, I am part angel. She needed me, and I knew it, but I needed her, too. I have wanted to write this book for a long time, but it has taken many lifetimes to find someone who would listen with her heart and then be willing to suspend judgment and write it down. It takes a certain leap of faith, you know."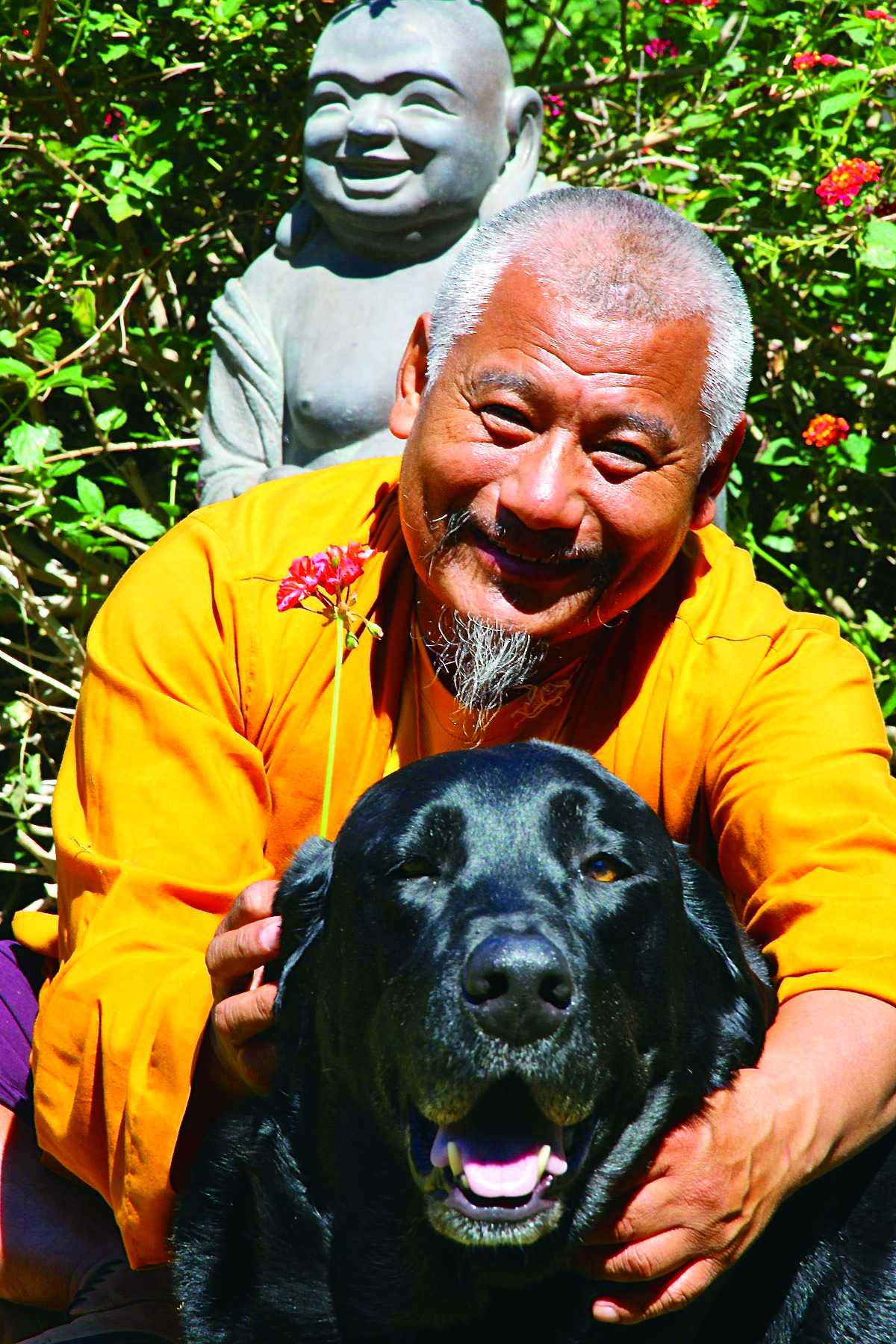 "And just like that … two of the happiest, most wonderful people I had ever met arrived on my doorstep, their saffron robes and smiling faces lighting up the whole property. Lily and Walter were immediately in love …  and followed them everywhere as they wandered the paths and examined the orchard. Both dogs just wanted to be touched and loved by them. The happiness was infectious while they were around."
Gracie's Tail: Conversations with DoG
100% of the profits from this book will be donated to better the lives of animals.
Buy Now From Amazon
Barnes and Noble
Gracie's Tail: Conversations with DoG
100% of the profits from this book will be donated to better the lives of animals.
Buy Now From Barnes and Noble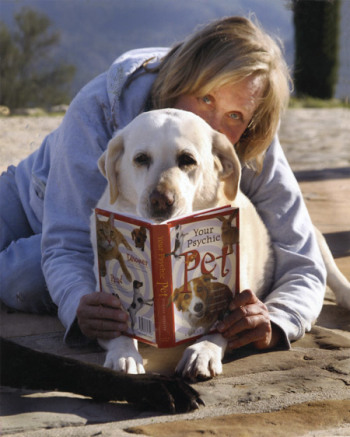 About Julie and Gracie
Julie Bloomer is a writer, farmer and recovering attorney, who is avid about animal communication, fostering wellness for all beings, and her spiritual studies. She is a dedicated meditator, with Buddhist leanings, who also dabbles in photography. A graduate of Bucknell University in 1971 and Loyola Law School in 1980, she resides in Ojai, California, where she is learning about the healing power of love. Gracie, her writing partner in this book, was a magnificent spiritual being who lived and worked side-by–side with Julie on their ranch in Ojai from 1998 until Gracie made her transition in 2012.
Gracie is still involved in writing, although now from the other side. Walter, Gracie's grandson, helped to finish this book. Never wanting to be left out, his paw is present in the photo.
A Message from Julie:
This book is my spiritual journey into animal communication and feeling the connection between all life. I am so grateful for the path I find myself on, wherever that leads and whatever it brings.
I have heard from people all over who have been touched and inspired by Gracie's Tail, telling me it was very brave to share my personal journey in this way. "Your openness and willingness to participate and provide for others is heartfelt and inspiring. I'm sure you and Gracie will be touching many hearts and minds." I have been surprised to learn from talking to people about the book, that something different resonates with each person. One person said, "Your book really moved me…I too had to get the hyper-critical sound of my mother's voice out of my head…we are so ignorant of the power of our words." Another said, "Everything that Gracie has said feels absolutely right. There are some truly beautiful statements that make me think and shift my focus and behavior. When I read one of these, I stop reading and stay with it for whatever time I need-sometimes several days."
Gracie and I refer to this book as a spiritual easy read. We wrote it with the hope of inspiring people to examine their own journey, to be kind to all beings, to discover patterns and make mindful and uplifting choices, and to begin to feel how we are all connected, so that peace, balance and love can transform our lives and this planet we all call home.
Remember, all profits from sales of this book will be donated to help improve the lives of animals. Money already has been donated to the Humane Society in Ojai, a no-kill shelter, The Wolf Connection, in Acton, California, which rescues wolves, protects them and then works with the wolves and at-risk children to give them hope for a future, and to the Elephant Sanctuary in Tennessee. So please help and buy a book.